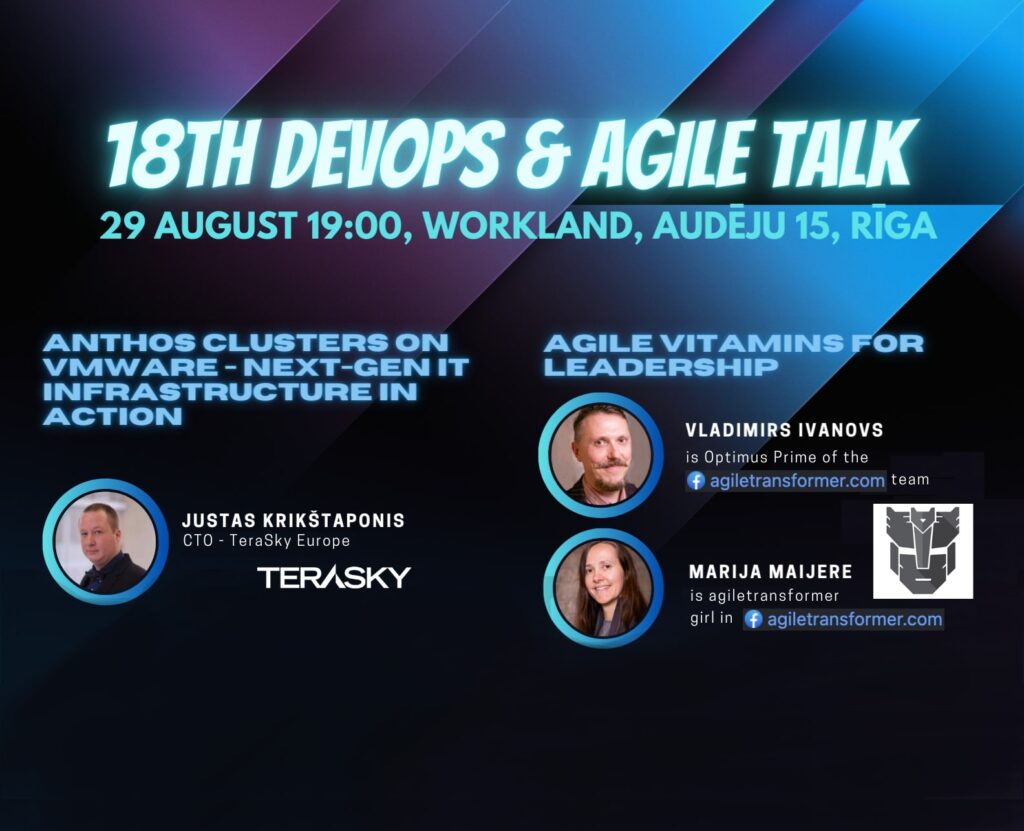 Hello dear DevOps and Agile community!
Last summer month comes with 18th DevOps & Agile Talk on 29th of August – this time event is sponsored by TeraSky – save the date!
This time we will have three speakers:
Justas Krikštaponis (CTO TeraSky Europe) – a confident implementation specialist with expertise in private cloud area and complex multitasking projects. Highly knowledgeable in networking, cloud and container orchestration technologies.
Justas Journey: Windows server administration > Virtualization > AWS > Network Virtualization > K8s > GCP > Tanzu.
Vladimirs Ivanovs is Optimus Prime of the agiletransformer team. Worked in various sectors and provided coaching and training all over the EMEA region. Was Agile Coach for British Petroleum and lived in Azerbaijan and Georgia for a few years, working with senior leaders. His passions are graphic visualization (sorry, no powerpoints in his trainings) and his mustache. Presented different topics at Agile community events for more than 10 years. Is certified trainer of the trainers for "Training from the BACK of the Room" approach.
Marija Maijere is agiletransformer girl and the creative soul behind new games, workshops and innovative practices. Her passion and active studies in the area of art therapy and psychodrama serve as an infinitive source of innovations and helped to create dozens of unique training programmes for companies and universities. Background in product management and digital marketing in industries from retail to online dating and recruitment helps her to find common language with anyone. Our motto is "Learning with FUN!", so are our workshops.
Vladimirs and Marija are not only colleagues, but a married couple with 22 years of experience and 2 kids raised with love and agility.
Please make sure that you arrive early because we'll be checking in people at the counter. No-shows will not be tolerated. There's simply no other way how to forecast how much beer we should buy 😊.
(In case you won't be able to join on-site, you are welcome to watch the live stream on our Youtube Channel)
As usual we will have two presentations:
Anthos clusters on VMware – Next-gen IT infrastructure in action by Justas Krikštaponis (TeraSky Europe)
Anthos enables you to manage GKE clusters and workloads running on virtual machines across environments. You get consistent managed Kubernetes experience with simple installs as well as upgrades validated by Google. Anthos can run on your existing virtualized infrastructure and bare metal servers without a hypervisor layer. Anthos simplifies your application stack, reduces the costs associated with licensing a hypervisor, and decreases time spent learning new skills.
Agile Vitamins for Leadership by Vladimirs Ivanovs and Marija Maijere (@agiletransformer.com)
Real-World Agility requires spontaneous actions and adequate responses to the challenges of the VUCA/BANI world. You will learn a playful way how to develop Agile Leadership and deal with Real-World Problems by applying acting and role-play.
Participants will have a chance to use their imagination and help fairy-tale characters realize their leadership potential with the use of the 9 principles of Agile Leadership.
Through fun and laughter, you will discover new behavioral patterns and strategies for personal growth as leaders.
Learning Leadership from fairy-tales – anyone can do it!
This time our general sponsor is TerraSky and there will be surprise gift for the lucky one, so be prepared!
See you at the Workland! Don't forget to register for the event on meetup.com/latvia-devops-and-agile-community
During the presentations, we love to play "DevOps Karaoke"- an improv game, where someone from the audience has a chance to give a 5 minutes presentation on slides, that he has never seen before. Add your name to this form, if you want to be the lucky guy or gal, who will have a chance to play it this time: ej.uz/es-velos-spelet-devops-karaoke
As we have limited availability, please register for the event here, on meetup.com: https://www.meetup.com/latvia-devops-and-agile-community
Don't know what to expect from DevOps talk? Check out the reviews of previous talks or watch the presentation on YouTube.
You are also invited to join our Slack where interesting discussions are going on in different channels on various topics. If you would like to receive a personal reminder about such events, please leave your contact information in the form.