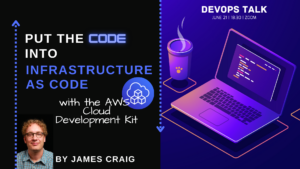 The Latvian summer is here, same as the next DevOps talk. It doesn't matter what's the weather because James Craig will make it rain some templates with the CDK!
On the 21st of June at 18:30, we will have another DevOps Talk event, where James will give a presentation about CDK, titled: "Put the Code into "Infrastructure As Code" with the AWS Cloud Development Kit":
Learn how you can use AWS Cloud Development Kit (CDK) to model and deploy your infrastructure quickly and cleanly. AWS CDK gets you started quickly in familiar programming language environments, helps to short-cut boilerplate code with high level defaults, but still allows detailed control over every setting and the creation of your own re-usable components. No need to learn CloudFormation syntax or wrangle JSON files!
James Craig is an AWS Partner Solutions Architect working with Financial Services software publishers around the world. James works with these software providers, their customers and specialised systems integrators to enable them to make best use of AWS services and innovate their solutions on the cloud. Prior to joining AWS 4 years ago, James held a range of IT roles across major capital markets institutions including Morgan Stanley and HSBC for over 20 years, ranging from DBA to developer, product owner and team lead.
Don't know what to expect from DevOps talk? Check out the review of the 9th DevOps Talk (https://devops.lv/2022/05/11/9th-devops-talk-review/) or watch the presentation on YouTube (https://www.youtube.com/watch?v=JAb-WdkNP0Q), or look further, and see reviews for all of them here: DevOps Talk Reviews.
We live in the Techies of Baltics Slack: https://devops.lv/slack/
Please sign up on meetup.com so you don't miss it. The Zoom link is here: https://eisgroup.zoom.us/j/94552939061?pwd=VmNUSVBsd1U2S0RUNUZ6Z1pNRk11QT09