Hello dear DevOps and Agile community!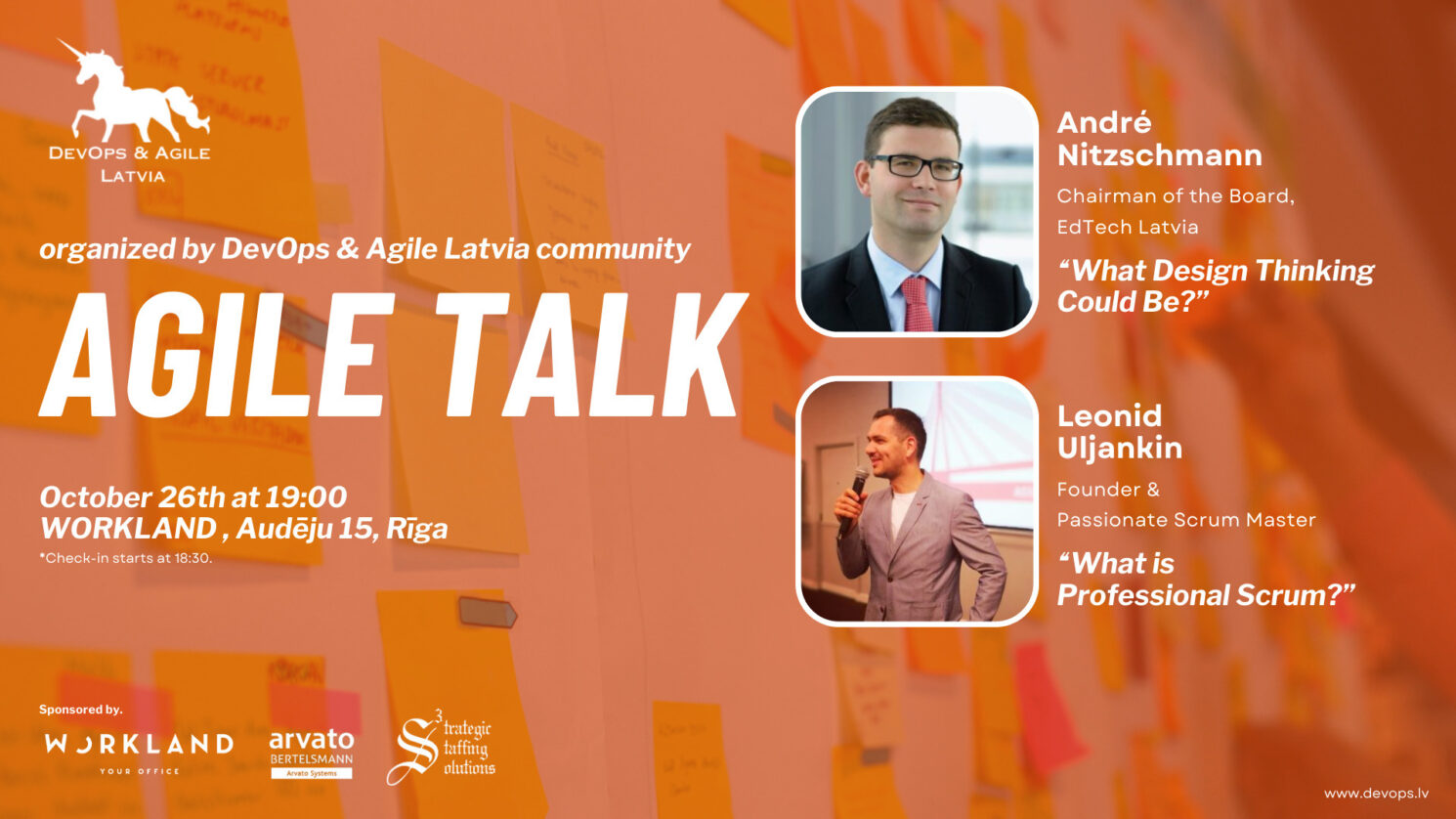 As autumn leaves paint the world in hues of gold, we welcome you back to another session of our DevOps & Agile Meetup series at Workland offices, right in the center of Rīga (Audēju iela 15)!
The 19th event in our lineup, this autumn edition promises to be a gathering of minds, echoing the spirit of change that the fall season brings. We're thrilled to present two experienced speakers who will share their expertise and insights – this time more focused on Agile side of the tech.
This time event is sponsored by Strategic Staffing Solutions, Arvato and Workland offices.
And this time we have two speakers:
André Nitzschmann (EdTech Latvia)
With over 14 years of experience in business development, sales, and innovation, André Nitzschmann is passionate about creating value and impact through technology. His core competencies include new business development, key account management, customer relationship management, and process optimization. As the Chairman of the Board at EdTech Latvia, he leads a team of visionaries dedicated to revolutionizing education and learning through innovation. Their focus lies in personalized growth, accessible knowledge, and lifelong learning for customers and partners. André believes that education is the key to empowerment, confidence, and career readiness in a rapidly evolving digital landscape. His diverse perspectives and experiences, gained from working and studying in different countries and sectors, including hospitality, manufacturing, research, and consulting, enrich his approach.
Leonid Uljankin
Leonid Uljankin is the Founder & Passionate Scrum Master, dedicated to working with individuals and their interactions over processes and tools since 2014. His passion lies in collaborating with teams and organizations to help them realize their full potential and deliver enhanced value to the world. Currently on track to become a Professional Scrum Trainer from Scrum.org, he holds certifications including PSM I/II, PSPO I, LeSS – Practitioner, and KMP1 from Lean Kanban University.
Please make sure that you arrive early because we'll be checking in people at the counter. There's simply no other way how to forecast how much beer and pizzas we should buy 😊.
(In case you won't be able to join on-site, you are welcome to watch the live stream on our Youtube Channel)
As usual we will have two presentations followed by networking:

Design Thinking + Facilitate Learning for Development by André Nitzschmann
In today's digital landscape, design has become the Pandora's box of digitization, presenting a curious challenge to explore its insights. André's talk delves into the features that form the basis of the architecture, emphasizing that the exploration of the user journey is an ongoing process. Users often find it challenging to define requirements until they experience the solution. This talk prompts us to ponder whether our thinking guides the design of smart digital services effectively. It raises questions about how software development can truly serve the people and encourages us to rethink our approach.
What is Professional Scrum by Leonid Uljankin
"What is Professional Scrum?" This question often lingers in the minds of practitioners. In this engaging talk, Leonid Uljankin invites participants to explore the nuances that differentiate Professional Scrum from conventional Scrum practices. Together, attendees will unravel the intricacies of Professional Scrum, understanding its unique elements and how it elevates the standard Scrum framework.
—
See you at the Workland! Doors at 18:30, presentations start at 19:00. Don't forget to register for the event on meetup.com/latvia-devops-and-agile-community. As always, your presence and active participation make our community vibrant and inspiring. To secure your spot, please RSVP on our Meetup.com page. Let's continue our mission of fostering innovation, learning, and collaboration in the ever-evolving landscapes of DevOps, Agile, and technology.
See you there!