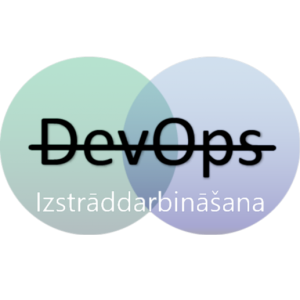 So that has officially happened – DevOps in Latvian is "izstrāddarbināšana" !
Thanks to few important people, I luckily was added to pre-discussion and did what I could. In my opinion this is the best outcome from all options I saw. Option to not translate it whatsoever, was rejected by commission.
Here is snippet from official document:
"LZA Terminoloģijas komisijas Informācijas tehnoloģijas, telekomunikācijas un elektronikas apakškomisijas protokols nr. 516
Apkopojot ražīgo diskusiju un daudzos priekšlikumus par DevOps, ieteikumos izkristalizējās kopīgas tendences: sadarbe, izstrādekspluatācija, izstrāddarbināšana, izstrādātāju un ekspluatētāju sadarbe, StrādEks, AtEks, izstrāde–darbināšana, izstrāde-operēšana, DevOps metode, DevOps pieeja, TieksmIzstrāde, Tieksmjizstrāde, Tieksmjtūra, garstrāde, (ātrā) programmatūrēšana, izstrādieviešana.
Nemot vērā daudzos ieteikumus, apakškomisija kā DevOps latvisko atbilsmi piedāvā izstrāddarbināšana un kā īso formu kompozītterminu izdarbe (izstrāde + darbināšana)."
These translations also are quite interesting and good actually:
| | |
| --- | --- |
| Ansible playbook | Ansible skriptārijs |
| Ansible role | Ansible loma |
| agile | spējš (kā apzīmētājs) |
| application release automation | lietotņu izlaides automatizācija |
| artifact | artefakts |
| autonomy | autonomija |
| build agent | būvēšanas aģents |
| build artifact repository | būvēšanas artefaktu repozitorijs |
So my profession in Latvian now is "Izdarbes vadītājs"…