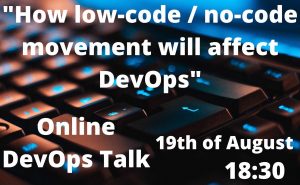 Do you miss DevOps Talk as much as we do? If you have been to the previous ones, I'm sure you do- as it was awesome!
You can read about the previous two events here:
1st DevOps Talk review
2nd DevOps Talk review
3rd DevOps Talk- Online discussion event from Latvia DevOps Community will take place on 19th of August at 18:30, please sign up here so you don't miss it.
As a warm-up, we are going to have a talk from Panagiotis Dimas from Arvato Systems Latvia "How low-code/no-code movement will affect DevOps".
After the main part- open discussion on the most popular topics provided by the participants. Come and join us, it's fun!
Here is a link to the event.