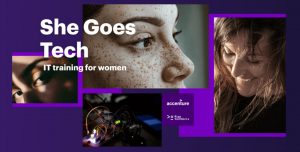 For the first time in history, there is a DevOps program for SheGoesTech training. A great chance for women to start a career in IT from zero!
There is a huge demand for DevOps specialists in the world! And this is your chance to change your life! Please contact me if you have any questions. You can apply here:
https://shegoestech.lv/
.
Choose DevOps&Cloud when filling in the application. The deadline is on the 30th of November.
At its essence, DevOps is culture, a movement, and a philosophy that seeks to improve collaboration and tighter integration between development (Dev) and operations (Ops) teams. DevOps goes beyond tools. It unites agile, git, continuous delivery, automation, and much more, to help teams to be more efficient, innovate faster, and deliver higher value to businesses and customers.
Want to join a striving community of developers, testers, and analysts working together as one team to innovate faster and build the next Netflix? We keep essential, revenue-critical systems up and running despite hurricanes and bandwidth outages using the best automation practices – and all of this while utilizing the most modern Cloud technologies.
DevOps is making significant inroads into IT organizations everywhere with leaders like Facebook, Amazon, Microsoft, and Google. Since the early beginning of DevOps in 2009, 74% of businesses have implemented DevOps already and the adoption is increasing rapidly.
Adopting DevOps philosophy requires a new mindset and new tools, but don't worry about not having these. After completing the training, you will be equipped with the needful knowledge and hands-on experience to progress in your career regardless of the future role!
DevOps group in January
January 11 – March 31, 2021
Every Monday, Wednesday, Friday from 18:30 – 21:30