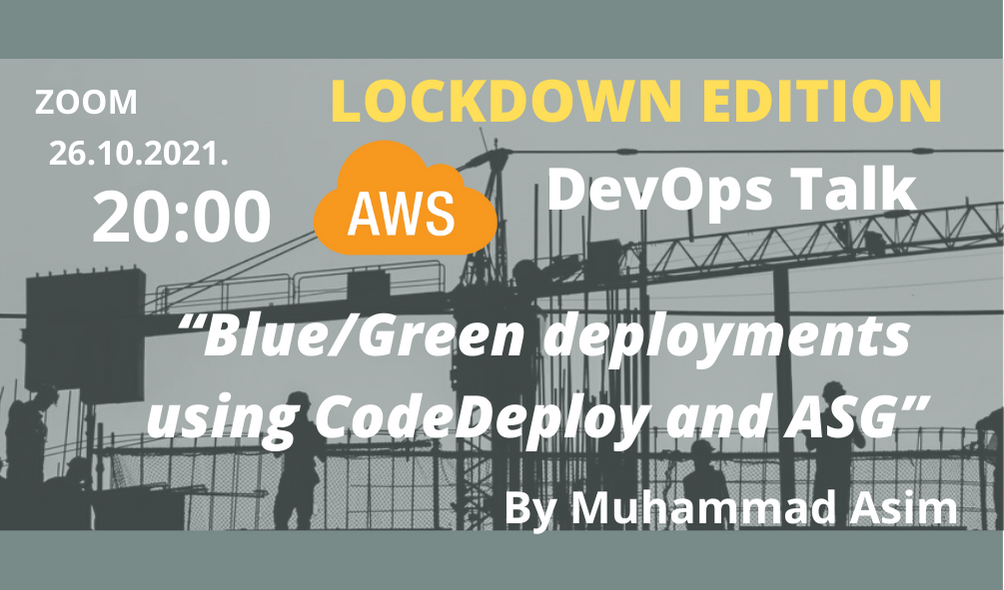 When Latvia goes in to to Lockdown, and curfew starts at 20:00, there is no better way to spend the autumn evening than to join DevOps Talk: Lockdown edition! 26th of October, at 20:00, DevOps Talk: Lockdown Edition.
Hey, hey, hey! It is already October and we have some good news! Due to popular demand, we are moving DevOps Talks to Tuesdays, and the next one will happen on 26th of October, at 18:30.
This time, Muhammad Asim will give the opening presentation about Blue/Green deployments on Amazon Web Services using CodeDeploy and AutoScaling Groups (ASG).
After the main part – open discussion on the most popular DevOps related issues provided by the participants. Since we are on the subject, this is an excellent opportunity to think about potential discussion topics, like "what to do after 31st of January", "should you go with CodeDeploy or Azure DevOps", or "is it worth to Dockerize something from Oracle", or something completely unrelated, like "When will DevOps engineers become obsolete".
This time, you can add your topic in advance here, on 5th DevOps Talk Board. Cannot think of any topics? Don't worry! You can join discussion even without that, or if you prefer, stay as a listener and jump in only when you want.
Don't know what to expect from DevOps talk? Check out review of the 4th DevOps Talk, or look further, and see reviews for all of them here: DevOps Talk Reviews.
Please sign up on meetup.com so you don't miss it. Zoom link here: us02web.zoom.us/j/83440128768?pwd=NHU1TkY5RUZZUHFiMG9yREZYMTNJdz09