2nd – 4th October '2019 | Riga, Radisson Park Inn Hotel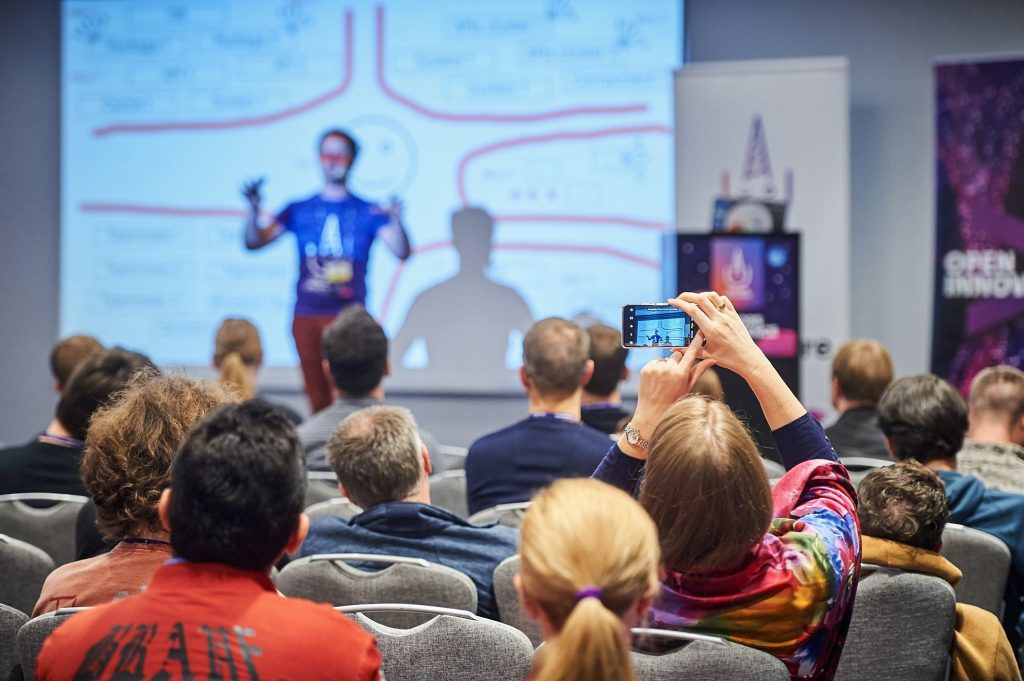 DevOps is a global phenomenon, with organizations integrating various DevOps tools, processes and practices to increase the performance of their applications & processes. DevOps has brought in reforms by its collaboration between different teams building strength between development and operational team's relationships within the companies. This year, community of DevOps in Riga was powered up by international experts coming to DevOps Unicorns, as one of the events that popularizes and specializes in DevOps to strengthen the skills of DevOps aspirants in Riga.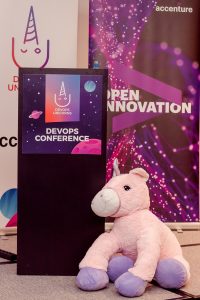 From 2nd to 4th October 2019, a three-day Technical conference, focused on culture, processes, and structure within organizations working with DevOps. It is the third year of this conference happening, brought to you by the organizers of FrontCon, RigaDevDays and DevClub.lv meetups, Latvian DevOps enthusiasts to share.
Thriving three-day conference, divided into a full-day workshop followed by next 2 days of opportunity to hear the Speakers contribute towards DevOps Community in Riga, it was organized in Latvia at Park Inn by Radisson, which is located at the west bank of Daugava River. DevOps Unicorns turned was a successful international conference with providing the opportunity and platform between local and international IT professionals.
Who was there?
Around 200+ foreign & local experts as attendees, came together to share their experiences and gain knowledge. Conference had a talented pool of Speakers, who were associated to companies like Elastic, Accenture, Microsoft, Xhub, PlayTech, Oracle, Xpirit, Elektrobit, Visma Labs, RedHat. Around twenty-two Speakers were present to address DevOps Unicorns Conference to share their methodologies, best practices, and tools within DevOps.
The Conference initiated with Day Zero as Workshop, a well-designed extensive full-day workshops starting from 9 am until 5 pm being held for attendees with Coffee Breaks & Lunch break included. Attendees as per their choice, each had chosen their interest of topic, provided to them as given below,
Microsoft Containers and DevOps Workshop: Azure Kubernetes Service (AKS) by Bojan Vrhovnik, Microsoft Slovenia,
From Zero to Hero with Terraform, AWS, and Friends by Anton Babenko,
Intro to Kubernetes and Service Mesh by Peter Jausovec, Oracle
Cloud-Native Kubernetes-First serverless Continuous Delivery with Jenkins X, Kubernetes, and Friends by Viktor Farcic, CloudBees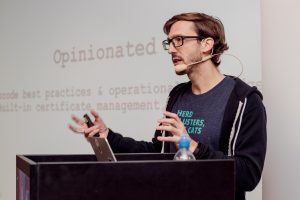 Speakers belonged to quite an interesting background and set of roles, such as founders, Team leads, Architects, Evangelists and Advocates, they came from different parts of the world motivated and enthusiastic to talk on DevOps trends. Amongst them, there were some outstanding speakers who were admired by the attendees, Philipp Krenn – who is a developer advocate Elastic, he talked about 'From Containers to Kubernetes Operators', our own Nordic and Latvia DevOps lead Uldis Karlovs-Karlovskis shared in-depth insights on DevOps Silos – "What they don't teach Architects at school" a take on well-known Conway's law with a focus on understandings how to design better IT systems for organizations, DevOps consultant – Andrey Adamovich, took the most debated topic of YAML/NoYAML to understand the benefits and usefulness of State Machine and there were some more intriguing technical talks delivered by other talented speakers.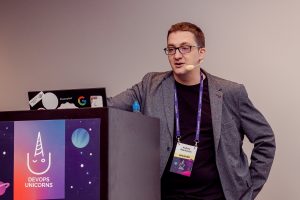 Continuous Delivery was observed to be the backbone of most topics which is important in attaining delivery of Software to a production environment with speed, safety and reliability, Opening Speaker Viktor, explained challenges faced during Continuous Delivery and recipes to implement it using ChatOps and GitOps, furthermore in-depth awareness & fixtures for exceptional scenarios using serverless technologies was carried by Jan de Vries. Visma showed their contribution by sharing about their Cloud Delivery Model and their experience as well as best practices by Jekaterina Pundani. This was a reflecting part of the conference where the experts coming from their place of work sharing ideas and projections of their Delivery frameworks or Models they follow along with their success stories is a rich and reflecting aspect, as by adhering and observing the best practices of other implementors can bring in fresh perspectives within the developer audience to vision with set of new fresh eyes towards the Continuous delivery roadblock or challenges.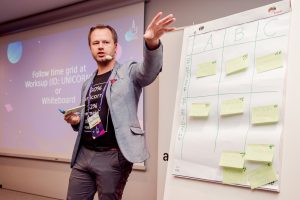 Intriguing part of conference was 'OpenSpace' discussions, was introduced by Uldis Karlovs-Karlovskis, Latvia DevOps lead, Accenture, a space where attendees had a chance to share their voice on the topics of debate. Topics were formed from audience demands and votes towards the topic and then having an allocated space dedicated to talk over the topic, share their opinions and reach a conclusion in small groups.
Partners
The Conference was sponsored by Accenture, Microsoft as Platinum partners, C.T. Co, Visma, Evolution Gaming, 4FinanceIT, CloudBees, Dev Training, Enjoy Recruitment, Techhub, Vilnius Jug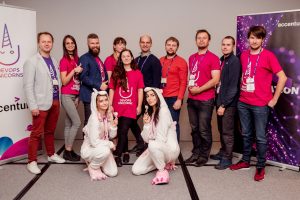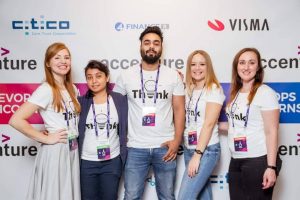 To conclude, it was an insightful journey with the experts of the DevOps community and a conference that has integrating factor of raising the DevOps community in Riga and as a abide for DevOps engineers to get an opportunity to be heard as well as a Forum with a feel of DevOps Carnival!