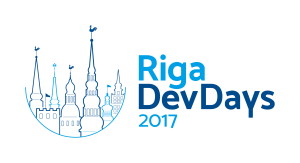 On 16th of May, 2017, Uldis and me will be presenting ADOP in Riga Dev Days. This is your chance to finally see ADOP in action – how to deploy it painlessly, what are all the available tools there, and how you can jump-start your projects, the DevOps way, in a matter of minutes.
But being an engineer in a company is not always easy, and no matter how much you would like this platform, and try to use it in your projects, it's always hard to push your ideas to the management, and actually get them approved. This is why, besides ADOP, we will also show you how to talk to your management to enable ADOP adoption.
Presentation is scheduled for 17:45 at Room 5. Check out the event page for details, and hope to see you there.