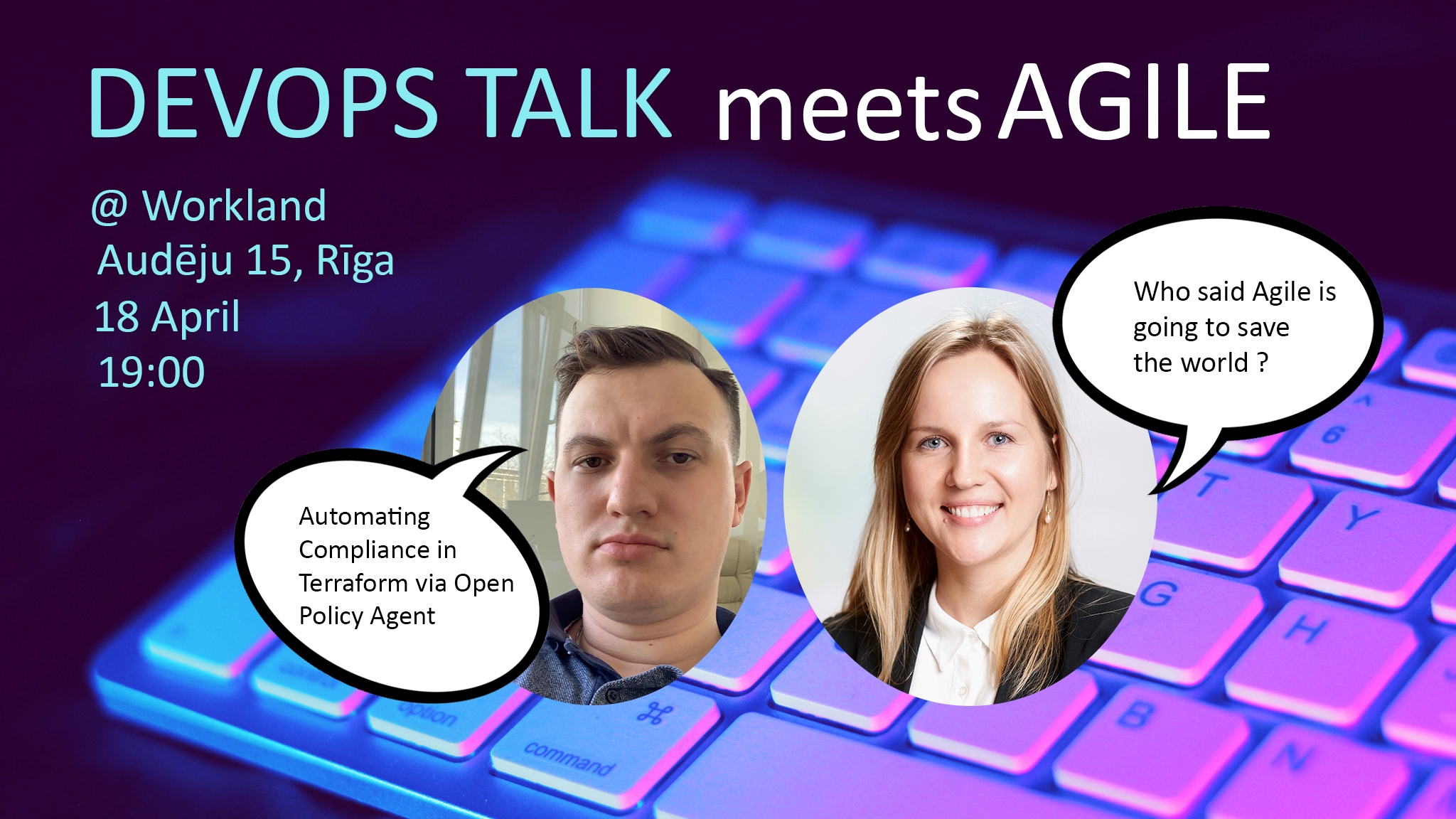 Greetings, DevOps-ers and Agilists!
DevOps would not exist without Agile, and that's why we are joining the communities. We don't know where it will take us, but it's a start. The next event, 16th DevOps Talk meets Agile, will take place on the 18th of April at 19:00 in Workland offices, right in the center of Riga (Audēju iela 15)! This time we're bringing you Janis Orlovs with his extensive experience on Terraform, and eye-opening insights about Agile by Rita Golubeva.
Please make sure that you arrive early because we'll be checking in people at the counter. No-shows will not be tolerated. There's simply no other way how to forecast how much beer we should buy 😊
(In case you won't be able to join on-site, you are welcome to watch the live stream on our Youtube Channel)
THE TALKS:
Janis is a DevOps/Platform engineer with 10+ years of experience in the field.
–Automating Compliance in Terraform via Open Policy Agent-
In this talk, we discuss the integration of Open Policy Agent (OPA) with Terraform, emphasizing the concept of "shifting left" on security by embedding compliance checks early in the development lifecycle. By using OPA's Rego language to define and enforce organization-specific rules and best practices, we empower developers to proactively validate their infrastructure changes, ensuring adherence to security standards and regulatory requirements. This approach reduces the need for manual review processes and cultivates a secure-by-design culture, making it easier to maintain robust, compliant cloud infrastructure.
——
Rita is a highly motivated, dynamic female professional, who strives for continuous improvement and sees dedicated everyday learning as the key to it. She has been immersed in the technology world for the past 6 years which has allowed her to gain on-the-ground experience in software (application) development and strengthen her agile project management experience. She has been working with a variety of teams – cross-functional, backend, and DevOps with a focus on microservices, iOS, Android, and SAP Cloud development.
-Who said Agile is going to save the world?-
In 2021, the Agile Manifesto turned 20 years old, and it's no secret that it launched a revolution in the software industry—and beyond. Nonetheless, the agile concept remains elusive for some, ideas about how to achieve agile continuously change, and confusion abounds. So, what do the creators of Agile Manifesto have to say about it? What are the biggest misconceptions around agile and what are we doing wrong? The ball is in our court, so how can we help ourselves to help others come back to the core principles of agile? Come and join me in the session on 18 of April to come back to the basics, share real-life examples of agile gone wrong, and ponder on some of the actions we can take in order to create lasting changes in the way we work with agile in our daily lives.
THE "TALK":
After learning more about OPA and saving the world of Agile, another fun part begins – the actual DevOps Talk! Do you have some doubts about implementing some specific technology and do you want to hear experiences from others? Or maybe is there a brain twister you have been searching for an answer to? We have an open discussion where you can come up with your topics, whether tech-related or not. Cannot think of any topics? Don't worry! You can still join the discussion or stay just as a listener.
Don't know what to expect from DevOps Talk? You can check out the reviews of the previous events on our website or watch the recordings on our YouTube Channel.
*****
You are also invited to join our Slack where interesting discussions are going on in different channels on various topics.
If you would like to receive a personal reminder about such events, please leave your contact information in the form.
We're looking for speakers! If you have a topic on your mind, sign up here. We'll help to prepare.
——
Don't forget to register for the event on the meetup.com !