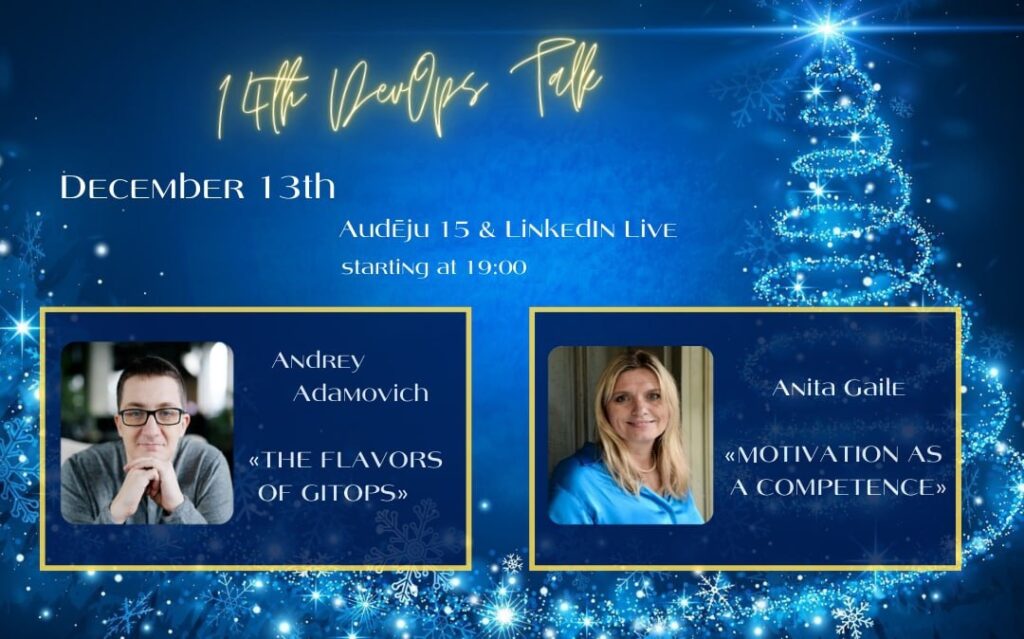 The first snow has just fallen and beautiful Riga is covered in magical white. Before we end another year, our next event, 14th DevOps Talk: Christmas Edition will take place on 13th of December at 19:00 in Workland offices, right in the center of Riga (Audēju iela 15)! Register for the event on the meetup.com
(In case you won't be able to join on-site, you are welcomed to watch the live stream on our Youtube Channel: https://youtu.be/kRRrw71d2rk)
Andrey Adamovich will be our first speaker, who will give us a presentation about "The Flavours of GitOps".
Andrey works as a freelance DevOps consultant offering his expertise in implementing DevOps initiatives, selecting automation tooling, switching to infrastructure-as-code and immutable infrastructure, and constructing software delivery pipelines. Another of Andrey's passions is teaching software automation practices and tooling. His DevOps MasterClass (eXtreme Automation) course has been delivered more than 100 times in various locations in Europe: Austria, Sweden, Denmark, the UK, Romania, Estonia, and Latvia.
"I've been doing GitOps before the term even existed. Essentially, GitOps is continuous delivery for Infra-as-Code. Let's discuss different aspects of that using real examples:
Push vs Pull
Does GitOps need Kubernetes? Hint: no
Non-k8s example: Terraform + GitLab CI
K8s example: ArgoCD"
Anita Gaile will be our next guest with the topic of "Motivation as Competence".
Anita is a leadership development trainer and coach; focusing on career, people, and change management. She holds a Ph.D. in Business Administration and has experience of being an HR function lead for large organizations.
"Have you ever seen an artist getting on the stage and declaring that 'I don't feel motivated today' Most probably not. However, in the workspace, it's sort of a 'normal' excuse for working slower or not working at all. How to make it happen – be motivated every day you show up at the work? And where to put the boredom, tiredness, frustrating colleagues, and the boss, to whom you're willing to give advice on how to lead?"
Once the presentation part is over, another fun part begins; the actual DevOps Talk! Do you have some doubts about implementing some specific technology and do you want to hear experiences from others? Or maybe is there a brain twister you have been searching for an answer to? We have an open discussion where you can come up with your topics, whether tech-related or not. Cannot think of any topics? Don't worry! You can still join the discussion or stay just as a listener.
Don't know what to expect from DevOps Talk? You can check out the reviews of the previous events on our website or watch the recordings on our YouTube Channel.
You are also invited to join our Slack where interesting discussions are going on in different channels on various topics.
If you would like to receive a personal reminder about such events, please leave your contact information in the form.
Please get in touch with us if you'd like to give a lightning talk at this event or at one of our future events.
Don't forget to register for the event on the meetup.com !