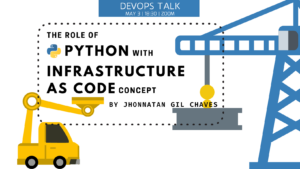 Have you been waiting for the next DevOps Talk? We too! Like the sun starts shining over Latvia's beautiful nature to make it greener with every day, also the DevOps Talk is rising to plant some IaC seeds in our ways of traditional working. Fundamentals are always important. In the 9th DevOps Talk, Jhonnatan Gil Chaves from Colombia will remind us what the Infrastructure as Code is truly about, and show a few tips and tricks with Python.
Python is a common tool for IT teams, that increases the ROI for the organization. Using IaC concepts by all IT teams, from development, QA, operation, Network and IT teams across the organization will reduce the toil across all teams. Such an approach from SRE and DevOps practices gives a tool capable to deploy and break the paradigm of a traditional organization.
Jhonnatan Gil Chaves is a System Engineer and Software Developer. He loves Linux and sharing with others all the knowledge he gains. In his PoCs he clears some questions to design better solutions for currents problems.
After the presentation, another fun part starts; the DevOps Talk! Do you have some doubts about implementing some specific technology and do you want to hear experiences from others? Or maybe is there a brain twister you have been searching for an answer to? We have an open discussion that you can come up with your topics, whether tech-related or not. Cannot think of any topics? Don't worry! You can still join the discussion or stay just as a listener.
Don't know what to expect from DevOps talk? Check out the review of the 8th DevOps Talk or watch the presentation on YouTube, or look further, and see reviews for all of them here: DevOps Talk Reviews.
Join us on 3rd of May at 18:30! Zoom link below.
Slack: https://devops.lv/slack/
Zoom link: https://eisgroup.zoom.us/j/98316718707?pwd=Vzg1MzZIUjBIcXZNUy9kNnMyZCtTUT09